In Which Young Ideas Have Growing Pains: Part 2
(Part 1 of this post series here)
My sketchbooks and journals are essential studio tools; they are repositories for ideas and a fantastic place go digging for inspiration. (Hint: The more you self-reference, the more unique your work will be to you.) Almost exactly a year ago, I did some loose sketches for a series on canvas featuring whimsical animals involved in silly situations. I've stacked animals before in my work so these sketches were not entirely unfamiliar territory. I doodled critters upon critters employing various means of transportation but it all seemed a bit too cute and I didn't have time to waste trying to fix the issue.
Fast forward to three weeks ago when I returned to those idea seeds to see if I could bring something forth from them after all. I doodled a bunch of rabbits and decided to zero in on my idea for three bunnies riding the back of a giant tortoise. I chose a tall and narrow gallery-wrapped canvas (12x18-inches) and sketched my central figures. The initial painting went well. I quite liked my rabbit arrangement and thought I was proceeding along swimmingly. Then the speed bump in my process appeared. It took me almost an entire day to paint the turtle and at the end of the evening, I knew it wasn't right. My goal from the outset had been a whimsical approach and while the bunnies were working, the turtle seemed too realistically positioned and the shell texture was a disaster. I snapped a quick photo of the canvas at this stage right before I gessoed over the problematic parts.
Before I began again, I decided to take a look at some primitive landscape art, both traditional and contemporary. Much of primitive work, either with or without animals, has a flat depth of field. There's not a lot of deep perspective. Think of a landscape folded forward toward the viewer, foreground, middle ground, and background lying directly on top of one another. It conveys layers but not real distance between the layers. My tortoise needed to be flattened. (Ironically, I got it right in my initial layout sketch.)
Primitive landscape art also tends to be busy with lots of little details to capture one's attention. Once I had figured out the redo of the tortoise, I needed to figure out how to fill the space around the central characters. I wanted it to be interesting but not distracting, flat but not boring. My "World Within" journal provided inspiration for the solution. My later work in that journal featured collage-constructed animals surrounded by a pieced border. I thought I could use that border idea but also knew the journal version was too busy. So I made the "pieces" more regimented and quilt-like. Ideas for the patterns in the individual sections were pulled from yet another sketchbook.
I also decided to use toned colors throughout this canvas, something I've never done before. Typically, I paint with what comes right out of the tubes but for a more primitive look, I mixed grey into everything to dial down the brightness. I limited the overall palette as well, managing to completely avoid using my beloved quinacridone magenta. These color choices resulted in a fresh, new look while retaining my usual approach to creatures and critters.
I also wanted to tie this canvas to another already-completed piece that will hang in the same show. Remember "The Hitchhikers?" I really loved the little row of houses and simple "lollipop" trees on that piece so I decided to repeat that motif in my new work. Repetition - whether of pattern, image, color, line quality or shape - is a great design principle that creates visual connections within a single piece or between multiple pieces, something that can be important when hanging work for a show. (And, as I've said before, referencing and repeating yourself is the best way to develop your own style.)
Besides the whimsical trees and houses, I also decided to repeat the checkerboard line in all subsequent canvases in this series. Because all these little ideas finally grew up and became something brand new that I felt was strong enough to sustain over a number of pieces.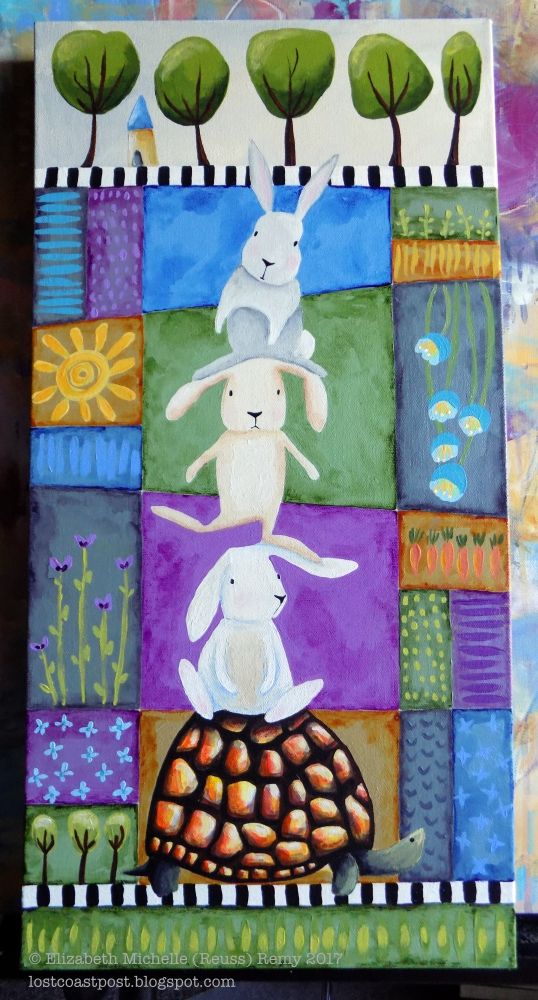 When I finished this canvas, I showed it to my son and he said it felt like an alternate version of the classic Aesop fable, one where the rabbits decide they can win the race and expend less effort to boot if they simply ride the sturdy tortoise all the way to the finish line. And so this series is now called "The Lost Aesops." (If I was being cheeky, I'd call them "Alt-Aesops" but despite the temptation, I'll leave politics out of it...except to say my first title for this painting was "The One Percenters.") In the end, I'll give each piece a title but the moral will be up to the viewer to discern. This first in the series is named - of course - "The Tortoise and the Hares." The second piece is already complete and you'll get a peek at that next week.
I hope this lengthy two-part breakdown of my design and problem-solving process is helpful to those of you wrestling with how to develop new work while either developing or maintaining a "look" that is uniquely yours. Write down every idea, no matter how small or silly. Those are your seeds.
Find those common threads running through your work over the years and pull them together. That will be your lattice on which new ideas will grow. New and old will come together to make exciting forward progress in your art practice!