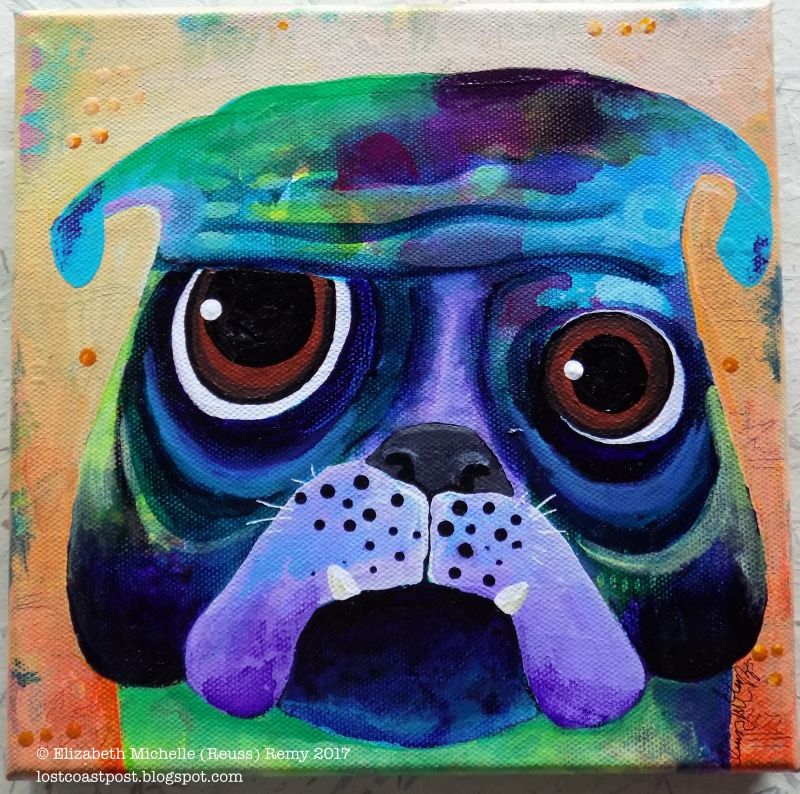 Here's a couple more peeks at work for my show coming up this fall. This year, I thought I'd return to painting animals, birds, and other creatures; it is a theme that seems to be popular with show attendees and certainly is popular with me in the studio. When one of these faces starts to come to life on canvas, I get very excited and that energy propels me fairly easily through having to make a lot of pieces so my show can look comfortably "full." As I have done in the past, I am working in a few small series that ultimately will hang together in October. These small canvases (8x8-inches square) are from the series I'm tentatively naming "Alley Cats & Junkyard Dogs." (Everything is "tentatively named" at this stage in the process. I mostly name stuff after everything is finished.)
Cats are always warmly received and this year, I will be presenting more than a few cat paintings. However, for the first time ever, I am also painting doggie faces and it has been so much fun! We all know that cats and dogs have very different personalities and I have discovered that they each have a unique feeling on canvas as well. I'm not sure why I haven't painted dogs before except perhaps for the fact that I am probably best described as a cat person. I realized though that I had unintentionally pigeonholed myself. I will coo over a cute dog I see on the street to the point of embarrassing both myself and the owner but it never occurred to me to try adding dogs into my art. Even in my sketchbooks, dogs rarely appear. Well, after the first couple of dog portraits in this series, I am hooked and thrilled to find something new (to me) to paint.
I took some decent photos of these pieces and will probably try offering this series printed up on tote bags and square throw pillows over at my Society 6 shop. I'll give everyone a heads up when I manage to get around to that. Life's quite busy right now - honestly, when isn't it - so I am juggling as fast as I am able.