The Fire Behind Sparks is Sputtering Under Smothering Doubt
"ZurZig the Magnificent"
I'm behind in posting pictures of work for my upcoming August show titled Sparks of Madness. I had been working steadily throughout most of June but admittedly, in the last couple of weeks, my time spent painting has given way to less intimidating projects like journaling and jewelry-making. Basically, I'm procrastinating with crafts. I am plagued with doubts about the wisdom of hanging an entire show of

monster paintings; I worry about how it will be received
(financially and critically) and it's too late now to shift gears. With 13 pieces done so far, I need to complete another 20 paintings or so in the next 28 days to have a comfortably full display and yet every canvas I commit to creature creation makes me increasingly nervous. I love painting these guys more than I've ever loved painting anything else but boy! I really feel like I am standing on my tippy-toes on the smallest twig at the end of the highest branch of a very tall tree swaying in a very fierce wind.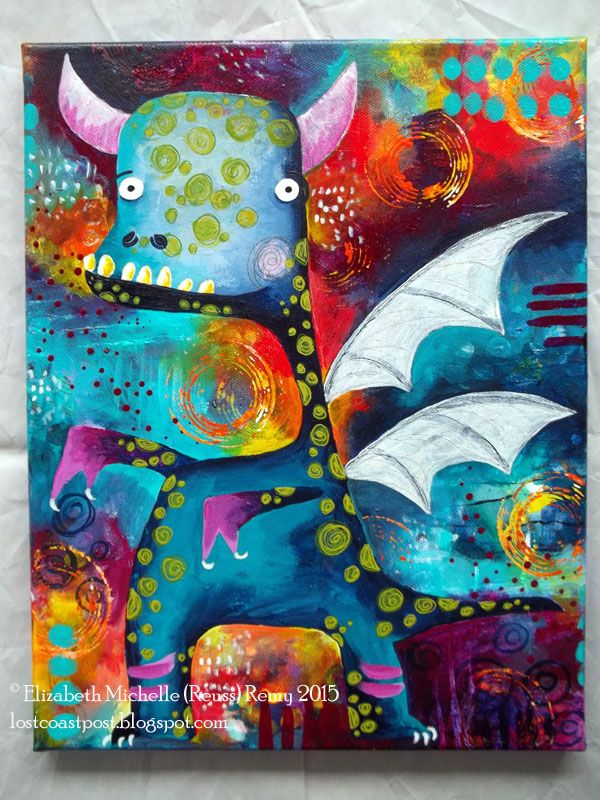 "Baron von Ziegfield"
In past years, I've always shown at this particular venue in October but this year, due to a scheduling snafu, I had to take whatever slot was available and that meant August. I think I might feel better if this show was going up closer to Halloween since the subject matter might make more sense in the eyes of the audience. I don't need any justification for drawing and painting monsters (other than I want to) but I think the world at large might need it. There are deeper reasons why I am so enthralled with creatures and critters but I'm not sure my explanations would sound anything but weird to most people.
Originally, I thought I would split my Motley Menagerie show into two parts: I'd do a series of monster paintings under the name, Sparks of Madness, and then another series of more "traditional" images that would beef up the collection of Menagerie pieces I still have in-house. I'm running out of time but I'm also running out of enthusiasm for the original, two-pronged show concept. As much as a show entirely populated by monsters terrifies me, I'm equally appalled by the notion that they need to take second billing next to more "acceptable" and "marketable" works. In fact, if I'm honest, I am a little annoyed that I even have to have this conversation with myself. It is a reasonable, practical, and timeless argument but irritating nonetheless. And yes, I have already had more than one person say, right to my face, that while these monsters were "cute," they weren't really "living room" appropriate. Hence, the doubt that is smothering my passion for this project. I know, I know...screw what other people think. Easier said than done...
Anyhow, I think I'm going to just leap off the teeny tiny branch of comfort zone I'm standing on and see what happens. Whether disastrous or successful, the journey (and the landing) will be dazzling either way.