A Trio of Sparks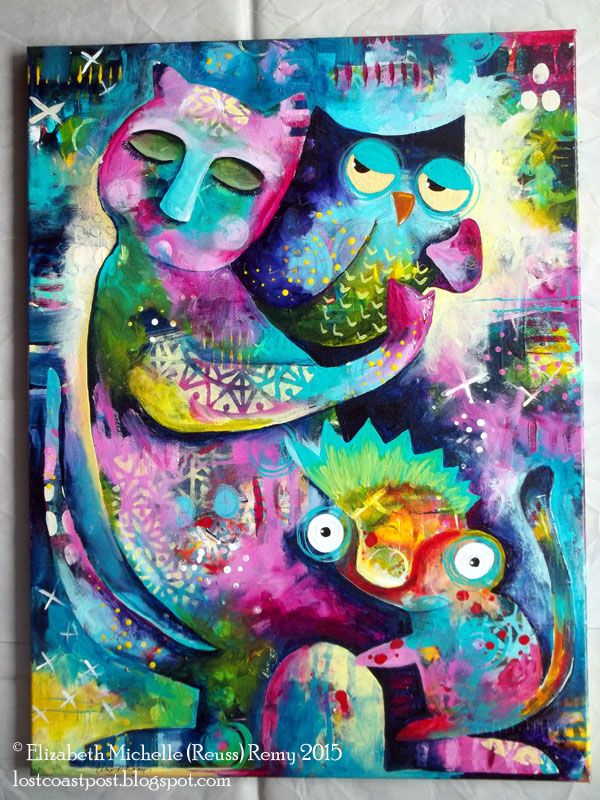 "Snapshot Moment at the Touchy-Feely Festival"
Thank you so much for all the wonderfully supportive comments on my previous post regarding the doubts I'm having about my Sparks of Madness show! Seriously...I feel like I've gathered my second wind and I'm hoping that I can spend the next three weeks in a whirlwind of productive studio days so my show looks full of fresh material. I have plenty of prepped canvases to complete and even some new ideas emerging from my clearer, more confident head. (Interestingly, some of those brainstorms have nothing to do with monsters but with a new series of flora and fauna pieces. We'll see how much time I have to execute everything I want to do now.)
I'm actually feeling so much better about my monster paintings that I decided to post this piece, one that has been complete for months but which seemed so odd I was too embarrassed to show it. This canvas is actually the second piece I did in the Sparks series and when I finished it way back in February, I had to sit back and take a breath. I love it and yet it scares me a bit because it is big (18x24-inches) and it was the first really weird thing that I've committed to canvas. It certainly isn't a shy sketch that can be quietly shut away in a journal.
After I finished the initial layers of marks and color, I started looking for creatures hiding in the background and I was surprised to find three. I wasn't totally sure that I wanted to bring all three to life but not only did the size of the canvas demand it but the creatures all seemed to "need" each other. Each character seemed to fit in naturally with the others; I just defined and refined the details and the edges. I spent a lot of time working the contrasts in color and value inside and outside the creatures so each would stand out from the background while remaining detailed and vibrant themselves.
However, I spent the most time - weeks in fact - trying to decide if the standing figure needed a mouth. I tried on a bunch of different mouths and absolutely nothing seemed to work. I finally came to the conclusion that any mouth I added pushed the image from oddly sweet to incredibly stupid-looking. I kept fighting myself, thinking "Well, she has to have a mouth!" Another part of me though (the small voice I ultimately listened to) could feel the gentle, motherly aspect of that character; even without the mouth, I thought I could feel her smiling. And the little owl she's holding and the strange fellow hugging her leg seem to sense it too. Someone who saw this piece said it looks as if the tall character is getting ready to eat the others; that person felt this piece was "ominous." I don't get that at all but maybe I'm too close to the work to be objective. What do you, dear readers, imagine is happening in this scene? I would love to hear your thoughts on possible narratives.
Perhaps you can imagine all the strange conversations I have with myself and these creatures as they come to life. The only other time I've felt that my creations are "alive" is when I'm sculpting characters. My found object robots and clay monsters all seem to gain self-awareness at some point in the process and I find myself guided towards their completion by voices that are not quite my own. (I've heard other doll-makers allude to this phenomenon so I know that this is actually quite normal...whew!) Anyway, this same process is happening as I create these canvas creatures. It makes for some very lively and surprising painting sessions.
Edit: Ultimately named this piece...
Snapshot Moment at the Touchy-Feely Festival