Trying to Paint My Story
As I've said, I am very selective about which online classes I take: I am really looking for classes that help me add to my personal style and technique repertoire rather than ones that show me how to mimic another artist's look. That said, once I read the description for Mindy Lacefield's Paint Your Story, I knew immediately that I had to take this class. (The title alone sold it to me.) I love creating characters that look as if they have a tale to tell. In fact, most of the creatures and critters I create are visual proxies for things I am feeling, thinking and experiencing.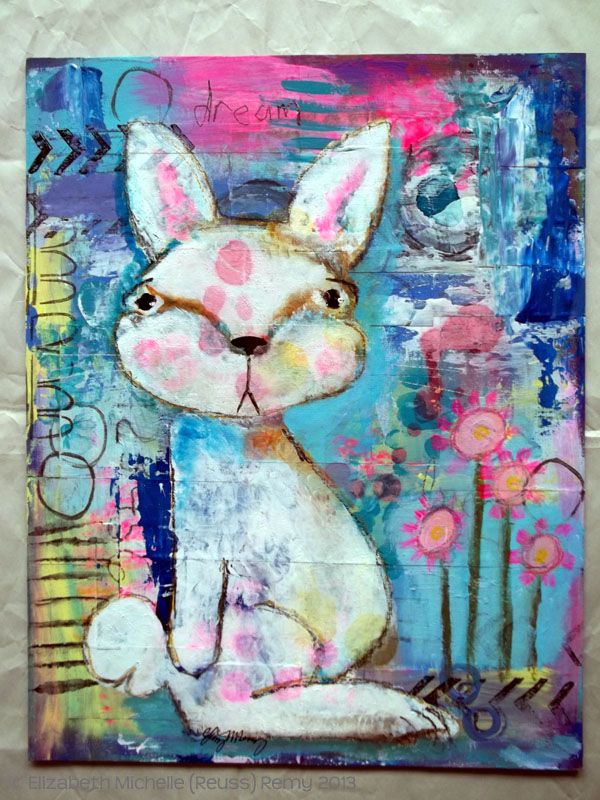 Mindy gives you the platform to develop your own lexicon of marks, symbols, and colors but I found the painting technique she demonstrates difficult to assimilate into my own style. The pieces I've created so far definitely look like they were inspired by Mindy. During the learning process, that's OK but as always I am striving for my own unique "look." I'll keep working and see how this new style of applying paint to canvas can be incorporated into my current work.
This pensive bunny is the first piece I completed for Mindy's class. Mindy suggests using alcohol inks in your backgrounds. That idea intrigued me because my stash of alcohol inks are just gathering dust. However, I immediately discovered that the ink continually bleeds through any paint placed over it; that's the reason this poor bun-bun looks like he has the measles. Still, there was something compelling about this image and the process so I blundered onward and tried to smash up Mindy's techniques with my most common subject matter - monsters. Tomorrow, I'll share the result of that experiment.