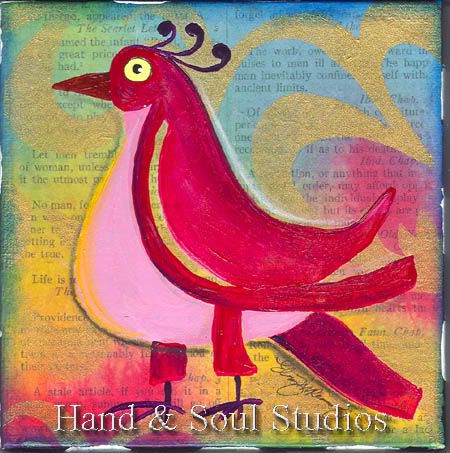 I've been a busy girl in the past week, working on a series of little birdie paintings for my Etsy shop. On 5 by 5-inch square canvases and finished off with a whimiscal checkerboard edge, these feathered friends are ready to grace your nest.

I have some big shows looming in the fall, events that will require 20 to 40 larger pieces per venue and here I am, completely enthralled with painting little things. I don't even want to think about how many of these 5-inch canvases it would take to fill up a show space. However, they do settle in nicely at Etsy and as an added bonus, they are easy on the hands and shoulders. Leaning over a big canvas is tiring and slow work. Relatively
speaking, painting these babies is easy peasy.