Finally, after a three year hiatus, my Etsy shop, Hand & Soul Studios, is back up and running. I've just a few things to relaunch the site but they are either pretty and useful or decorative and whimiscal. First up, I added a couple of my handmade, chain stitched journals: covers and endpapers of rich handmade papers, nice sturdy card stock pages with pretty coordinating patterned scrapbook papers to wrap each signature, 8 signatures in all. And finally, a decorative ribbon to tie it all closed.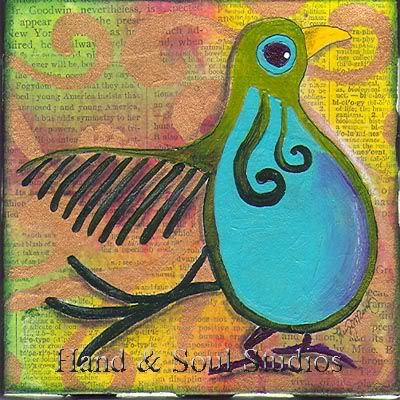 I've also added five small bird paintings to my Etsy store, ready to fly to your home and grace the walls. Each little bird is perched on a 5-inch square stretched canvas and just for fun, I finished off the canvas edges in a playful checkerboard pattern.
Check out the link to the right if you're interested in taking a peek...tomorrow, this blog will be back to our regularly scheduled programming: journals and loads of art play. Until then, adieu.