I'm still wandering all over the place in the studio but there is a definitely common thread running through the eclectic mix of work: PLAY! Little bit of this, little bit of that, just doing whatever tickles my fancy in the moment...finished this piece a couple days back...a canvas just for me but also a test case for a couple of new series that are brewing in my brain...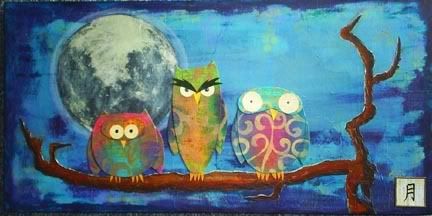 Here's a close-up of my three little owls who now stand watch over my art-making...
The moon is a photograph that I glazed over to incorporate into my background, the tree limb is formed from molding paste, and the owls are separate painted pieces I attached once everything else was complete. The Chinese symbol in the lower right corner means "moon." Lot of work but way too much fun! It is great to see some of my cartooning come to life.