In mid-October, the sidewalks of my town's plaza are transformed into works of
art as a fundraiser for North Coast Children's Services. Artists team up with sponsoring businesses to work wonders with pastels on a concrete canvas; thus, the event's simple moniker: Pastels on the Plaza. This year, it rained rather enthusiastically the night before but undeterred, participants showed up and got
to work.
The results, as usual, were often whimsical, sometimes stunning, and, perhaps, brighter than usual, as damp sidewalks made the pastels a more fluid medium. Artists are allowed to use only dry pastels (no oils), water, and whatever blending tools they desire. No fixatives...no chemicals...This is the first year that I managed to remember my camera so I could capture this celebration of art as ephemeral as sandcastles; the minute Nature sweeps through with a cleansing rain, all this beauty and hard work
simply melts away. There were lots of bird images this year...This egret was this year's "poster bird" for a local organization, F.O.A.M, aka Friends of the Arcata Marsh. Egrets and herons are commonplace here on the Lost Coast so they are often a popular motif. There were also hummingbirds hovering in sweet columbine...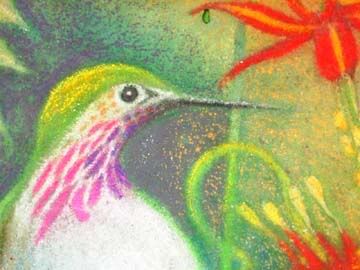 ...and a resplendent peacock, his feathery finery spilling out of the boundaries of the artist's assigned
space. This was probably my favorite of the year.
I
am always amazed at the level of detail and nuances of shading that these artists achieve on such a rough surface. More pics tomorrow..