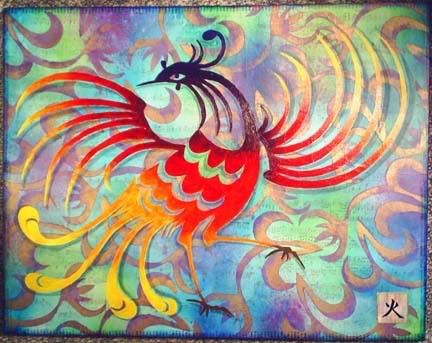 ...it has been a busy month since i last posted. i finished 21 paintings for my show just before it went up on february 1st...i named this particular event "Ying, Yang, and a little bit of Jung" and the pieces fell into two types of series. the first series is big, bright, bold, simple, graphic...yang. the painting on the left, entitled "Born of Fire," is part of the first half of the show. the second series, ying, applies a more intimate version of the Chinese hua yang embroidery designs that inspired this entire group of artworks i've been working on since last june. for more than one reason...the most important of which i'll get to later in this post...i think i've finally come to the end of this style but i have learned a great deal and had a bunch of fun in the process.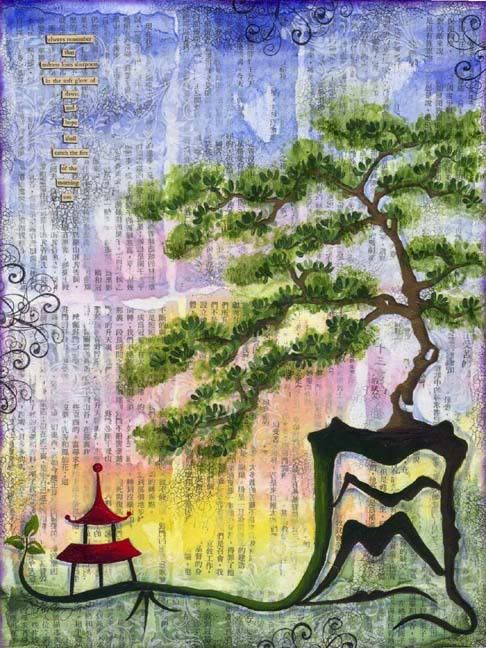 the ying portion of the show is a series of landscapes that i simply numbered from 1 to 11. i call them "compositions in landscape." the underlying background prep is similiar to the above set of canvases, but as you can see the colors are softer and the detailed imagery (and accompanying found word poetry) makes the piece more reflective.
i named this show "Ying, Yang, and a Little Bit of Jung" because, while i worked on both sets of canvases simultaneously, alternating between styles when i got bored with one or the other, i didn't realize until the night before the show was to be hung, that i had generated a series of paintings that really represented two sides of me. lying in bed, i saw the harmony of the endeavor and given upcoming physical challenges, i saw how i had managed to play with and reveal two different sides of not only my artistic self but my mental, emotional, spiritual, and physical selves as well. too cool! click the image gallery link on the right for my picturetrail and then peek in the "Art on Canvas" folder. you'll be able to see all 21 pieces...
so the show went up february 1st and then i had 10 days to prepare myself for the next big adventure: surgery to completely and permanently fuse my right wrist. i've pecked out this post a la poet e.e. cummings because the shift key is a bitch with one hand. the surgery was feb 11 and i've been slowly recovering. the pain has been startling in its intensity; this is my 6th hand surgery and while post-surgical pain is a given, it has been a wildly miserable 6 six days. the surgeons used bone from my right hip to pack into the joint spaces in the hand and that surgery site seemed to wake up the day before yesterday, determined not to be ignored. i decided to rap out a blog posting today as a way of convincing myself i'm still all here but i really want to just burrow under my covers and pillows and sleep. the road ahead will be rough in places and triumphant in others, but for now, i'll be napping, gathering my strength.