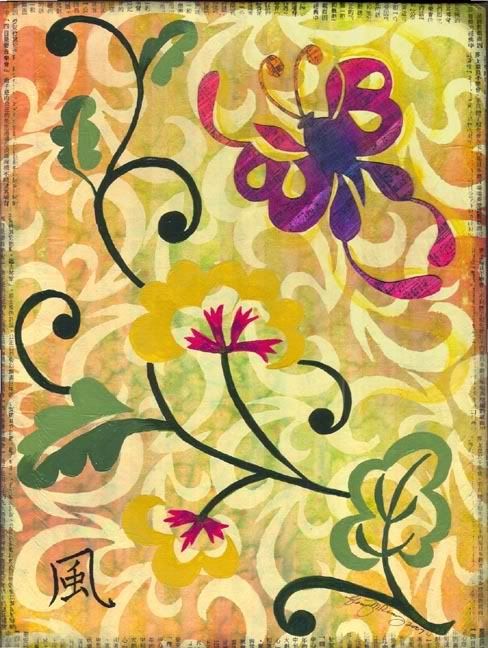 I know, I know....I haven't been posting on my blog....Are you at all shocked? As I have said, when things get chaotic, the first thing to fall to the bottom of the "To Do" list is my blog. I'm trying to get better...I really am...it is just that all this canvas is so insistent about being painted on and...well, the computer often doesn't say anything at all to me.
Here's what happened: After I donated the crane painting to Vector Rehabilitation (the PT clinic I seem to practically live at nowadays), the executive director called me the following day and asked if I would like to do a show at their clinic. "I'd love to!" I said, looking around at the three measly canvases I had completed. And so, I really leaned into the task and began painting madly. All in all, I created 18 canvases in 7 weeks (if you go back to when I first started this Chinese folk design series.) I'd paint all weekend and then show up at PT on Monday mornings so my therapist could ease the physical toll of such intensity and sustained activity ("Unraveling my shoulder muscles from my ears" as he says.) I'm not quite ready for the all day, every day lifestyle of a true working artist, so by the last painting, a two-foot by three-foot exercise in agony, I had a fairly significant setback with my chronic muscle problems. But I got those paintings done and hung the show the last week in June.
Here's the part that made it all worth it: The day I hung the show, I sold 12 paintings that very day!!!! The irony is that the bulk of that revenue will go towards my ballooning medical bills but I should be able to use a little to invest in some more canvas. I was thrilled to sell my work (I would've been happy with one painting selling) but in the aftermath, I realized I am now sans work for my October showing. Ack! I'm terrified I'll run out of ideas and I've still got a solo show in February to have work ready for...sigh! What's a girl to do? Well, first off, I've taken a BIG break so I can recover a bit physically, deal with the ongoing saga of my foot (which has now lasped into a waiting game of wondering if the fibroma has grown back and will thus require more surgery), and most importantly, to guard against burnout on this su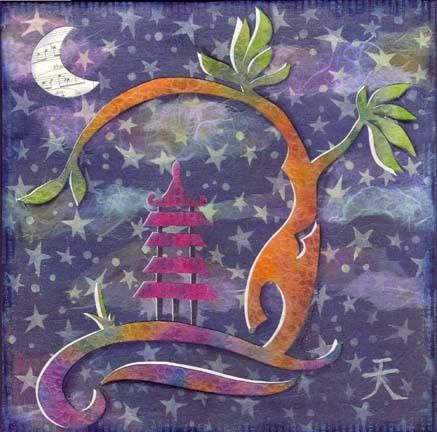 bject matter.
All in all, setting aside the physical challenges, the painting work is great fun. Some canvases are strictly painted (after a collaged layer beneath) and a few (very few because it is a tedious process), have papercuts added to the canvas. In the first painting in this post ("Catch the Wind"), the butterfly is a cutout from separately collaged and painted serendipity canvas. In the third piece ("A Little Piece of Heaven,") the entire image, including the moon is a cutout. There's even a second layer of cutout to create the white highlight. Thank goodness this was only a 14-inch square canvas!! So that's the update...till we meet again!